Good Company Players at
Roger Rocka's Dinner Theater
It's too good a time to miss!
Only 2 weeks left, and some performances are nearly sold out  This Neil Sedaka songfest must end with the matinee on Sunday, January 14.

Set at a Catskills resort in 1960, Breaking Up is Hard To Do is the sweetly comic story of Lois and Marge, two friends from Brooklyn in search of adventure and romance one wild Labor Day weekend. Marge has just been jilted at the altar and doesn't want to be "Solitaire" so Lois convinces Marge that the two of them should use her honeymoon reservations at Esther's Paradise Resort Hotel, because that is "Where The Boys Are".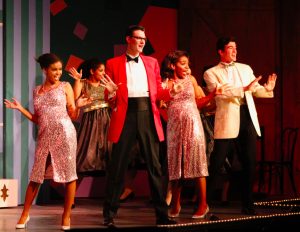 The nostalgia, music, and laughter keep on rolling in this comedy as the cast belts out Neil Sedaka's greatest hits including "Sweet Sixteen," "Stupid Cupid," "Calendar Girl," "Laughter In The Rain," and the title song — just for starters!
Don't miss the fun of Breaking Up is Hard To Do!
A great year to see every show!
Good Company Players' 45th Anniversary Season is about to begin, with the January 18 opening of the musical ANNIE at Roger Rocka's Dinner Theater.

2018 brings an exceptional lineup of shows, as you'll see below.  Once you've looked them over, check out Season Tickets HERE.  Or chat with our box office at 266-9494.

Annie
January 18 – March 18, 2018
A scrappy orphan faces down the Depression, the richest man in America, a trio of con artists, and even President Roosevelt in this upbeat family-friendly musical. Rated PG.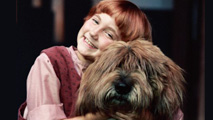 Mamma Mia!
March 22 – May 20, 2018
Set on a Greek island, this sunny jukebox musical spins a modern fairytale of a young bride-to-be whose determination to find her real father brings three men from her mother's past back to the island they visited 20 years ago. ABBA's timeless music infuses this enchanting comedy with toe-tapping, finger-snapping, sassy nostalgia. Rated PG-13.
Joseph and the Amazing Technicolor Dreamcoat
May 24 – July 15, 2018
Andrew Lloyd Webber's joyful retelling of the story of Joseph, his doting father, his eleven jealous brothers, and his adventures in Egypt. Rated PG.
Into The Woods
July 19 – September 16, 2018
This brilliant mash-up of famous fairy tales weaves a spell all its own with a magical score by Stephen Sondheim and mesmerizing book by James Lapine. Rated PG.
Seven Brides For Seven Brothers
September 20 – November 11, 2018
Seven uncouth brothers decide to kidnap brides from the nearby town, and wind up snowed in with seven seriously miffed young ladies. As the backwoods boys lose their hearts and are rebuffed, they realize they have a lot to learn about "goin' courtin'". Rated PG.
Footloose
November 15 – January 13, 2019
The iconic movie explodes to life in this exhilarating story about a pent-up young rebel who sets a repressive small town on its ear with his love of music, dancing, and freedom. Rated PG-13.